Greetings traveler.
---
We welcome you to Delirium, where things are not what they seem and magic is just the beginning of your adventure.
---
This is a fairly new site, being only about 2 and a half months old. Our setting takes place about 400 years into the past - x391 being the current year - and dragons freely roam Earthland. While humans and dragons are currently in peace with each other, there is darkness brewing and that fragile line of truce between them might just break soon enough.
---
Episode One: Bastion, The Ironclad Dragon is now open!
---
Enjoy your stay, and please...
---
Stay delirious.
---
---
Administrators
---
Syrena
---
Erik Cecere
---
Global Moderators
---
Heero Villenn
---
Moderators
---
Darion Steinheil
---
Grimm
---
---
Fairy Tail © belongs to Hiro Mashima
---
Fairy Tail: Delirium © Spitfire
---
Pre-made skin is credited to hitskin.com in forumotion. All other codes for FT: Delirium were taken from various coding sites via google. Said codes and pre-made skin have been edited and modified to suit the needs of the website. Any and all other content (i.e.: posts, applications, stories, plots, etc.) solely belong to their creators and makers of FT: Delirium. Nothing may be taken or used without the owner's permission, excluding certain situations listed under the Terms of Service and Rules, which are subjected to change without warning.
---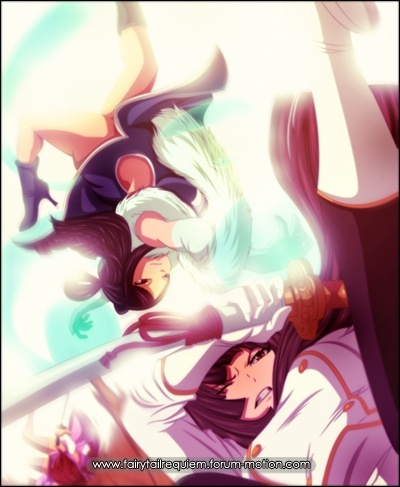 Set in an alternate Fairyverse, Requiem takes you into a completely new world offering brand new experiences.


There are only four guilds open at the moment: Fairy Tail, Blue Pegasus, Lamia Scale and Eisenwald.

There are four spots open for Dragon Slayers, Requipers, Take-Over mages and Banned Magic users. Each guild can only have one of each. It is therefore not possible to app for Dragon Slayer in a guild that already has one.

Now that we've told you about some of the advantages, I'd like to share some things about the system as well. Basically, everything is done through jewels. There are a bunch of pre-made requests in every guild that can all be done once unless it's stated that they're repeatable. The jewels are then used to upgrade your rank, upgrade your class, start a spell training session, improve your guild and so on.
Starting on Requiem will allow you to pick one of the four starter class: Scavenger, Scout, Mystic and Cleric. Each class offers a passive bonus to your character and can be upgraded. The Scavenger class, for example, allows you to loot more jewels at the end of a request, the percentage increases as you upgrade it to Rogue and then Treasure Hunter. It's also not possible to start training a spell whenever you feel like it. It costs jewels to start a training. Character growth is therefore only possible for people who actually roleplay and do requests.
Monthly awards such as Member of the Month, Character Application of the Month, Couple of the Month etc. are also all in place. Each winner gets a nice prize at the end of month when they're announced and a nice additional recognition. Couple winners, for example, will receive a heart at the end of their name, so everyone can see who the couple of the month is in the memberlist.
Character applications have a special characteristics section that needs to be filled with pre-made characteristics. The list offers all kinds of positive and negative traits to customize your character. These traits will determine your behavior during your roleplays greatly. Oh, and did I already mention that you can wield a weapon if you pick the Zealot trait?
The forum has a large playground. We've added many towns and islands with multiple sub-locations so you can enjoy all kinds of different settings. Come in and now and enjoy the advantage of starting earlier than other roleplayers to get ahead on the race of becoming the most praised or feared wizard of Fiore.


Similar topics
---
Permissions in this forum:
You
cannot
reply to topics in this forum